Warning
: preg_replace(): The /e modifier is no longer supported, use preg_replace_callback instead in
/home/jeslisin/public_html/kitchenexplorers.com/wp-content/themes/CAL/header.php
on line
65
Another happy food trip Friday everyone!
Just wanna share my secret box in the fridge –  a pot of gold!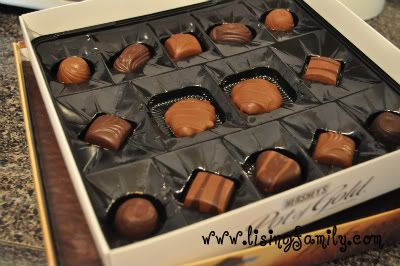 This is HERSHEY pot of gold, combination of milk and dark chocolates. Can someone give me some more chocolates but not DARK please. I know dark chocolates are better than regular chocolates, I can eat it but I am not enjoying it. But If someone wants to give me dark chocolates, I would still love and eat it don't worry. Just requesting for non-dark.
Hello everyone! It's my first time here!
Here's my very first entry – a channel bag and a  jimmy choo shoes.
Nah,of course NOT, it's a food meme right, I'm sure I'm not lost coz my entry here is a CAKE made by a friend for another friends' birthday last week 🙂
Happy Food Trip Friday!
Ever since kids tasted daddy's adobo, they are requesting for it most of the time. I know it's delicious, but the other meal that daddy was cooking were all delicious that's why I am wondering what's with daddy's adobo? Hmm…let's see….
Here are the ingredients "I" (he hates preparing ingredients and I loved it so I am the one preparing for everything he needs) prepared for hubby
soysauce, vinegar, pepper, onions, garlic, chicken thighs
oil, potatoes and boiled egg (not in the picture)
Typical adobo doesn't have a potatoes nor egg but I remember seeing one when I was a kid so I thought of adding it too in daddy's adobo and another thing that made me think of putting some was because I want the kids to eat vegetables.

My kids loves to participate in everything we do so if there's some simple things that we know they can able to do, we were letting them do it, like in this picture, Ishi was the one putting the other ingredients like salt and pepper. It's not hard and not so dangerous for them, After putting the ingredients, daddy made sure she's far from the hot surface.
Ishi helping Daddy
After waiting for almost an hour….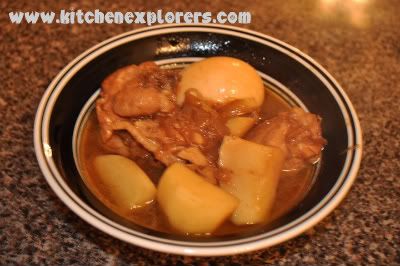 dad's chicken adobo
The Chicken Adobo is now ready! Kids ate plenty again because of our very delicious meal.
Hey, were one week now in Arkansas, the weather is still cold even the spring has already started. But it's okay, I maybe feeling cold right now but it's also a good thing coz my kids seemed having a good appetite because of the weather. They are eating a lot of food now. And guess what? Daddy's 'pork adobo' is their favorite meal and daddy seemed so inspired to cook every other day. He's the one cooking for our everyday meal and that includes our lunch and dinner eversince we arrived here while I do the breakfast. My husband had an eight months learning how to cook while here all by himself. He has no one to cook for him and he can't save money if he eats everyday outside so what he did was learn using the most reliable source – the internet.  I never thought husband would be cooking and I am so proud of him, now he inspired me too. I hope to cook next week coz I really wanna learn different dishes too!
Nice Cooking Daddy!