Warning
: preg_replace(): The /e modifier is no longer supported, use preg_replace_callback instead in
/home/jeslisin/public_html/kitchenexplorers.com/wp-content/themes/CAL/header.php
on line
65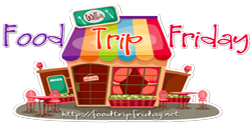 It's 9:29 PM here in AR, sitting 1 meter away from my simmering menudo ingredients and I  thought of doing some post about it coz it's my first menudo ever! Maybe you're wondering why I am cooking so late in the evening? Yeah I did it on purpose so husband could have his "baon" (packed lunch) for tomorrow. I didn't serve it for dinner today coz daddy is still not feeling well and I am sure he's not gonna eat yet. And I am right! When he arrived this evening he ate just a noodle soup instead of eating the  'broiled rib eye steak' with 'potatoes and carrot' on the side I made for him. I understand coz he really does have no appetite yet. But I wish he could eat my menudo tomorrow already that means I really wish him  to get well soon completely.
Here's how I made my first ever menudo dish …
The ingredients:
2 lbs pork cubes
3pcs carrot cut in cubes
1/2 lb chicken gizzards and hearts (can't find any liver)
3 – 5 pcs of hotdogs
2 pcs medium potatoes
1 med onions and 3 pcs gloves of garlics both finely chopped
asuete instead of tomato sauce, pepper, salt, oil, soy sauce, sugar and lemon

1. marinate the pork with soysauce for 3 hours but I just marinated it for 1 hour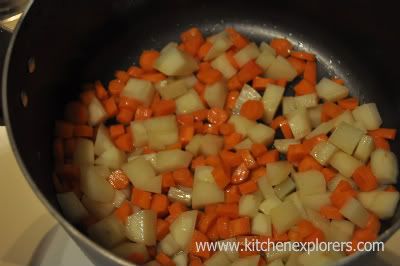 2. fry the potatoes and carrots for about 5 minutes then put it in a separate bowl
3. saute the garlic and onions where you fried the potato and carrots
4. now add the marinated pork and some water to it ans simmer for 15-20 minutes
5. add the asuete and chicken gizzards and hearts and simmer for another 15 minutes coz hearts and gizzards and harder than liver so if you are using liver just simmer it for 10 minutes
6. finally add the fried carrots and potatoes, red bell pepper, and brown sugar then simmer for another 5 minutes
I am so happy I made a menudo! All of my life I thought it is so hard to do.
Thanks to the internet for giving me so many e-recipes!
Hubby was sick for more than three days now and he started to feel unwell last Friday night when he came home from work. And when he's sick,  his throat is always his problem so he can't eat well. Aside from having no appetite, he's also having a hard time swallowing solid foods so all he's eating were more on soft foods or soups if possible. Good thing we still have some instant noodles in the kitchen cabinet so he's eating noodles all day. I just thought noodles were not nutritious so I thought of making some porridge
.
instant noodles with fresh milk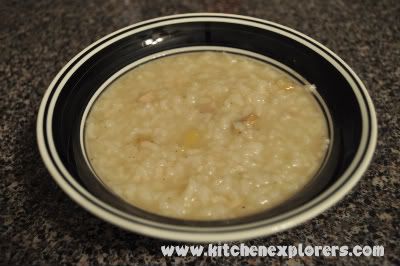 chicken porridge
I don't exactly know how to make it but remembering the days during my childhood, I was like 8 then, we used to go to 'bukid' (field) where we used to have our picnic or camping without a tent. My friends and I were usually cooking 'lugaw' (porridge) or 'champorado' (another kind of porridge ) using a stones to hold the cooking pot and using woods we picked from the field area to create a fire for cooking. I remember bringing our own contribution for what we are going to cook and I always remember bringing cups of rice. Some were bringing pork or meat broth, salt, pepper, ginger, garlic and oil. I remembered how we cooked it  before, all you need to do is saute the garlic, ginger, meat broth until it turns brown then put the washed rice and some meats if you want to put some. I put some sliced chicken in it for more flavored taste.  And so there my memories made me create a porridge for the first time again after several years. My husband ate much of it and I am glad he liked it even he has no appetite yet. What important is that he has something in his stomach with atleast some nutritions in it. My porridge doesn't look good in the picture but I can assure you it's good for the first timer like me.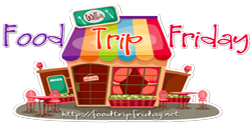 I can't believe I forgot to join last week in here! I even forgot that there's a contest and I didn't win, LOL. Congrats to the winner anyway. By the way, I am not a new participant okay? I just transfered my other entries here, my new website about foods! Please be patient with the looks of my blog, I ordered a template for this already 😀 Yay. Why am I talking about my blog anyway, here's my entry for this week – grilled rib-eye steak with mashed potatoes and asparagus! I cooked this last Monday for my husband ans he loved it! I am so inspired to cook because of my family especially because of my husband coz really loves to eat!
I am always seeing foods that are garnish so nicely and I thought those are hard to do, I've been always wanting to garnish food but there's so many reasons why I can't practice before. Now is my chance so I am researching more foods to make. This one is a rib-eye meat, seasoned with oil, salt and pepper. Instead of grilling it, I just used our small oven to broil it for 20 minutes, 10 minutes to each side in 400 degrees fahrenheit. I also made some mashed potatoes, boiled for like 20 minutes until the potatoes was ready to be mashed. The asparagus were broiled too after seasoned with salt, pepper and oil. The gravy is a ready made one and I just boiled it with water. And tadan! I made a very special dinner for my husband that is always been hungry every time he comes home in the afternoon.
Till next time!
Happy Holyweek everyone!
Happy Food Trip Friday everyone!
Most Filipinos I know were very fond of ordering in Starbucks, even a very simple employees working in Makati were spending money for this coffee without even noticing that most of their salary  went to starbucks income already. I can't blame them, I myself love starbucks, the difference is that, I don't have a work so I don't have an income to spend in starbucks, LOL.
Good thing there's a Starbucks products available in stores, weeeeeeeeeeeeeeee! (thanks to my lovidoobs for buying this) now I can have my starbucks coffee anytime I want!
Starbucks  Frappucino- Mocha Flavor
with cream whip on top (cream whip is not a starbuscks product but it's available in groceries)
yummy whip!
Let's have some coffee while bloghopping 🙂
Happy 2nd Anniversary FOOD TRIP FRIDAY!