Warning
: preg_replace(): The /e modifier is no longer supported, use preg_replace_callback instead in
/home/jeslisin/public_html/kitchenexplorers.com/wp-content/themes/CAL/header.php
on line
65
My Little Angels are enjoying in our kitchen just like mommy. They always wanted to help me cooking in the kitchen but I can't let them cook in hot surface yet. All I can have them do for now is mix and pour but not near the stove. But sometimes I am letting them go near the stove like one time, I let Ishi cooked her own white spaghetti sauce since she's just gonna heat it in the pan. She enjoyed it and I can see how much she loves to cook already. I will soon be exposing her to the stove and teach her tried not to burn herself like what is always happening to me (now you know why I don't want her near the stove).When that time happens I am sure, she'll be cooking our food soon!
Look what I saw for my little angels?
A cooking set that's equal parts fun and function
Since Ishi and Ethan were always helping me in the kitchen, I am thinking of buying these stuff for them..I just dunno when but I love to have these for them! So nice right? I wish I could buy them now that they are 55% off!! Gosh!
I browsed my uploaded pictures in my facebook account and saw this cake….this was my Ishi's cake during her 4th birthday celebration in Montessori. I ordered this from my real estate client. These are carrot and banana cupcakes. It's very simple yet expensive in my part, I bought this for 1.000 pesos and picked it up in their place. If only I have oven that time, I am sure I can make this cupcakes on my own and not spend such amount. But don't get me wrong, the cupcakes tastes great and the come with boxes too so you can bring them home after the party.
Ishi enjoyed her party!
Kids and I made fruit cocktail float for daddy in celebration of Father's day! I am supposed to bake a chocolate mousse unfortunately we ran out of eggs, we can't buy to walmart because hubby is sick,  don't ask me coz I don't have a license yet, so sorry I guess I will be making cake next time. Good thing I already have my other recipe plan ready. The fruit cocktail float. So here's how kids and I prepared it :
FRUIT COCKTAIL  INGREDIENTS:
1 can of fruit cocktail
1 box Graham Grackers
1 can Nestle Cream
1 can Condensed Milk
1 pack of strawberry jello good for 2 cups
PROCEDURES
1. I opened the canned ingredients
2. Combine condensed milk and nestle cream
3. Kids layered the graham crackers in a square glass pan
4. I put some fruits on top of the layered crackers and put the cream and milk mixture and some jello
5. Kids and I repeated the layers of graham crackers, filling, cream and milk mixture and jello
6. I  put the final layer with graham crackers and poured all of the fruit cocktails and jello
5. Chill if after, it's better for overnight but the kids can't wait for it so if that happened…you can eat it after four hours
6. Serve frozen Mango Float
The kids enjoyed doing it. They are so excited coz they said it's their surprise to daddy even if their daddy is just sitting right behind us watching in his computer. Great! I guess daddy will be surprise! 🙂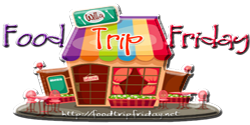 We attended a Marvel Heroes Themed Party last Saturday and this is the cake's celebrant made by his Mom AVI, the very talented mommy who's baking for fun and who knows, soon to be my business partner in party business 😀 I just love her cake, I wasn't able to post the other photos of his cake I took last events and parties but I will soon be posting them here…if you wanna see her other sweets, you can  her site http://alotofsugar.blogspot.com/
Hmmm yummy cake 😀 Love it!
Last June 11th was my niece's birthday and it was held at their all time favorite fast food – Jollibee!
The party went well, not so grand, they just invited some of the cousins and friends just to have a party of alteast 30 people. Budget is not so big, it's her 7th birthday so she just wanted to have an unforgettable birthday experience so the grand ma did her best to have this party. O fcourse with the help of sponsors ahurmmm (clearing my throats), they were able to celebrate it there. Jollibee food are so affordable if you have plenty of money, and very expensive if you have plenty of debts. My neices and nephews seldom eats here, so now you know that they have plenty of debts lol. Just kidding, the truth is they can't afford to eat there unless there's a party to attend in jollibee. My niece, the celebrant was so happy on her day and I am happy to know that too. Here's some pictures of the birthday celebrant and the foods since I wanna see the foods lol. Few shots only coz they have encountering problems with the digital camera I left to them, my brother said he wil be buying new camera batteries rechargeable next time when he has budget for that.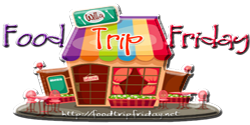 Food trip friday once again!!!
I wanna share our usual breakfast …
we ate Long-Si-Log-Log for breakfast but I didn't took a picture of the 'Si or sinangag (friedrice)'  but I have this Longanisa and 2 kinds of Eggs
Sunny side Up and Egg with tomatoes my favorite!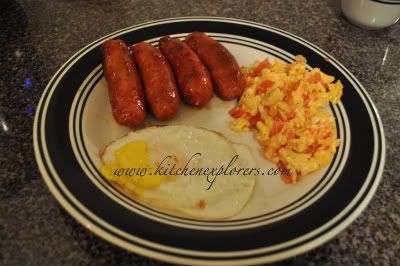 We bought this longanisa in Pinoy Store here and it's so delicious! 😀 We can't eat without these Filipino dishes!
What did you have for breakfast today?  Share your meal with us here!
Guest post of the week by Monte Dominguez
Powerpuff Girls is the ultimate cartoon for anyone who wants a little girl power in their lives. This adorable show is about three girls that were created by a professor. These girls, who were meant to be perfect, were made with sugar, spice, and everything nice. Yet, one ingredient was added that destroyed this perfect combination: chemical X.
The main characters of this show are the sisters Bubbles, Blossom, and Buttercup. Bubbles is a very cute girl who enjoys rainbows, ponies, flowers, and basically anything a 'girly girl' would like. Blossom is obviously the leader of the pack, who is sweet and ve! ry strong. Finally, Buttercup is the 'tomboy' of the three sisters, who enjoys play fighting and acting tough.
Together, these girls fight crime that seems to pop up in their town every so often, which has earned the girls the title "The savors of the City of Townsville."
Although at first glance these girls may seem like anything but strong, it is the complete opposite. The Powerpuff Girls can fly, hover, fight, and have many more powers as well. In fact, all three girls have heat ray vision like Superman!
I absolutely love watching this show on my www.directstartv.com, mostly because I enjoy watching young girls beat up villains such as Mojo Jojo.
This show, which has been around for a long time, is perfect for proving to girls that they can do anything, even if Powerpuff Girls is only a show.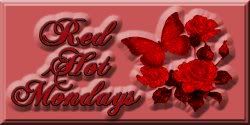 I found another exciting, yummy and fun food last Friday.
I Love Strawberries!
Strawberries dipped in Chocolate…yummy!
Hello friends! I would like to take this opportunity to invite you to please visit, like, comment or maybe JOIN my first GIVEAWAY here – http://www.lisingfamily.com/personalized-address-labels-giveaways-by-lovable-labels/
Thank you very much!
I have discovered a new food last night and I love it. So yummy! A friend of friends came to visit here from Minnesota and she cooked some baked mussles for the party last night. I asked her to share her recipe so I will be posting how she did it. For now, I just wanna share it to you coz I really loved it and it's so new to me.
BAKED MUSSLES by JoyC
Mussels  is one of the seafoods I love, I love eating them. Aside from being tasty, it is also a good source of protein. This kind of food is often distinguished from meat and it is usually eaten and common in coastal areas. And did you know that mussles is a good aphrodisiacs too?  Natural aphrodisiacs such foods may help to raise libido and increase desire. Like any other people mostly men are eating lots of natural aphrodisiacs aside from taking testosterone supplements that work. Mussles are so good no matter how it is cooked I just love them!
The dining table is one of the best places to be in the house. You can be seated across each other and beside each other while telling each other what has happened through the day and also listening to each other especially when problems crop up. It is a place where most moms plan their day because of multitasking. Most moms multitask, right? While doing something probably baking in the kitchen and while the clothes are spinning in the washing machine, many moms plan their day on the dining table.
What is it that covers your dining table? Is it just the table, probably made of wood with formica finish? Is it topped with glass or plastic? How about nothing at all, as rough as it is? Why not make it elegant by covering it with Sferra table cloth? If your family does not spend time on the dining table as much as you wanted, maybe this time if you have such table cloth, they would.