Warning
: preg_replace(): The /e modifier is no longer supported, use preg_replace_callback instead in
/home/jeslisin/public_html/kitchenexplorers.com/wp-content/themes/CAL/header.php
on line
65
When I first use our kitchen sink, I was very careful throwing the left overs coz I am afraid I will block it. I just known from my husband that it's okay to throw left overs in the sink since it has insinkerator. It is grinding the left over you dispose in there and it is connected to a garbage disposal. That means it's okay to throw in the sink. But one time I accidentally threw a little portion of a bone in there and It broke the insinkerator. I panicked and check under the sink but al I can see is teflon hose and I don't know what to do with it so I called someone  from the clubhouse and they sent someone to fix it for free. I love this community! And since then, I am very careful with our sink and now I bought a strainer for it!
Thinking of what to cook 3 times a day was never easy. I think it's the hardest thing to do as a mom. I started cooking for my family last March when we arrive here and I feel like I already cooked all recipes I have learned online.  I only tried to learn Filipino recipes yet and those only that my kids can eat. I wanna try other foods but my kids are so picky and I don't wanna cook something that they don't wanna eat. My kids favorite is 'Chicken Adobo'. It's a very simple dish, all you have to do is fry the chicken and out the soy sauce, vinegar, bay leaves and water and that's it. Some dishes that they love to eat are Chicken Tinola, Sinigang, Pork Giniling, Menudo and Fried Chicken.
Aside from main dishes, I am also trying to BAKE. This is one of the things they love to do with me – to bake their own snack. We are making some simple muffins and cakes. Aside from these stuff, I can't think of any recipes anymore. I wanted to try Mexican and Italian recipes but I am not confident my kids would eat it. Sometimes I made hotdog sandwich and they love it so maybe I will try a burger soon. My mind was so drained right now, can't think of anything to cook so I made some porridge.
September is the month when Grandparents' Day is celebrated. It's a time when we show our appreciation for the people who played major roles in bringing us into the world. Children, in their younger years, are particularly close to their grandmas and grandpas. I guess that's because grandparents tend to spoil kids and shower them with lots of love. I would've loved for my kids to shop for grandparent gifts. I saw this picture gallery frame set where several pictures can be hung together. It would be a neat place to hang pictures of the whole family. Unfortunately, the gifts won't make it in time for the actual celebration of Grandparents' Day. So I guess they'll just have to buy it some other time.
Living in the city can definitely take its toll on women, especially those who commute to and from work. Premature aging is a common problem with women who often go out of the house. Due to pollution, the facial skin could become clogged with dirt and other pollutants. Thus, the skin becomes rough and dry. Good thing there's dead sea mud which is highly enriched with 26 minerals essential to skin health and function. It has a high mineral content which allows skin to stay naturally hydrated and moisturized. Basically, you apply it on your face and pull it off once the mud dries. When you pull it off, toxins and dirt which clog the pores are pulled out, too. What's left behind is a clear, clean, purified, healthier, and younger-looking skin.
Did you know that apple is one of the best appetite suppressant?

An apple a day keeps cravings at bay. High-fiber foods like apples generally require more chewing time, giving your body extra time to register the fact that you're no longer hungry. Therefore, you're less likely to overeat.
I have known some of my friends and relatives that are using this technique to suppress their appetite. They are eating only apples and banana in their breakfast and dinner and now I am starting to do it too. My problem about this kind of diet is that I am experiencing hyper acidity so I should be careful with it. I guess I should eat something first before I take apple in the morning.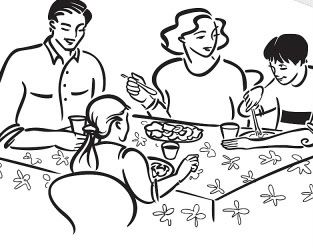 (photo from the net)
Eating together is one of the best bonding of a family. I grew up with this kind of set up, everybody eats together at the same time. I have seen some are practicing the buffet type, you can get your food whenever you wanted to eat and I find it not healthy. Let's admit most of the family members especially for a family with teenagers are all busy with their own thing. Parents are busy with work, teens are busy with their stuff too so the best time that your family were gathered together was during meal time and that's the time you had a chance to talk to each other aside from stalking each other in facebook. As a family, we always eat together, pray together and then tell each other's stories. My husband and I love to hear our 4 and 5 year old stories about their day so we are always asking them during our meal while husband asked me about my assigned tasks for the day -such as looking for life insurance types  and a health card and so many more. That way, we atleast have each other informed and updated about our individual life and I love it.
Halloween is coming so soon. This is one of my favorite occasion aside from Christmas and my kids' birthdays. I am always looking forward celebrating this. Few months ahead of time, I am already looking and preparing for their costumes. It's the best thing to buy costumes now for there are lots of promos everywhere both online and offline stores. I already have costumes for Ishi, she chose Cinderella but it seems big for her so I am gonna look for another one. Ethan still has his Iron Man costume and I think that will still be okay to use. Aside from costumes, there's more important thing we should always have in our house, the highlight of Halloween  – candies and chocolate gift baskets!
I always love when kids knock on your door saying "trick or treats'  and you as the house owner will give everyone their treats a candies, chocolates or some goodies like toys.  I wonder if anybody would say 'trick' instead of treat, just kidding.  My kids never missed Halloween since birth. I will never miss this for anything.  Their past years were fun and I am hoping we could have more exciting Halloween this year.
I must start buying some decors now, this is gonna be an exciting one! So gt ready your COSTUMES and GOODIES and let's celebrate Halloween!
Most of the people calling hospital foods gross or like a pig's food! I actually don't like hospitals when I was a kids till I got pregnant. That's the first time I appreciate hospitals! But the first time I visited and stayed in the hospital was when my brother was stubbed and stayed in the hospital for almost two months! I hate it back then! I hate eating inside his room while with different patients' case! I wanna vomit and I don't wanna eat but I have no choice since I am looking after my brother! The second time I stayed in the hospital was when my niece was confined, she was 9 mos old that time and sometimes I am looking after her too. I still don't wanna eat the hospital foods! Finally when I got pregnant, I am always visiting hospital that time since my OB's clinic is in teh hospital that time. Since then, I get used to it! And ofcourse the first time I ate hospital food is when I gave birth! I was in the hospital and they gave me food and so I have to eat it! I realized that the hospital foods are great! Balanced and delicious! I am just not sure if it's the same in the public hospital where my brother and my niece was confined before coz it looks dirty to me! No offense but really! I find the food very presentable in my hospital then, it was served by someone in Baby Phat Scrubs even she is not a nurse and that looks neat and presentable! In that way you can atleast think that the food you are eating is clean even the truth is you are not really sure about it!