Warning
: preg_replace(): The /e modifier is no longer supported, use preg_replace_callback instead in
/home/jeslisin/public_html/kitchenexplorers.com/wp-content/themes/CAL/header.php
on line
65
It is funny how just a few days ago we were all going crazy over Christmas preparations. Now, we're all geared up to welcome the New Year, and after that, we'd be getting all mushy because it would be Valentine's Day. Are you ready for V day? I am, and you want to know why? It's one of those special events of the year where I can satisfy my sweet tooth.
I was browsing through a website earlier where there were plenty of Valentine's Day cupcake designs, all of which looked pretty and yummy. My kids and I actually love sweets. We'd sometimes bake or create our own sweet recipes.
Talking about this actually gave me an idea. I don't think I have to browse online yet again to get some Valentine's Day ideas because I have just thought of the perfect gift for the whole family. I'm going to bake! I'm going to bake cupcakes and other delicious Valentine's Day goodies. I'd even make some for my kids' schoolmates.
I would also try to look for some awesome Valentine's Day recipes to make our V day extra special. After all, it comes just once a year, so I might as well make it ultra special for me and my family. At the same time, it's the perfect chance for me to curb my sweet tooth!
We are blessed to have a Filipino friends here in Arkansas who loves gatherings and party. Because of this, we are not missing our family and friends and the traditions back in our country no matter how far we are.
Now we are planning again another party for new year celebration and they plan to have a french recipes. Each household were assigned to bring one recipe and I am having a big problem now! Last Christmas we all have Filipino Foods, to think it's all Pinoy Foods but I chose to bring the soda and garlic bread because I am not confident with my cooking ability. If only I can suggest catering just like in Christmas Parties London I am probably not having problems right now. But my friends love to cook as yummy as those foods in catering so they don't need a catering services except for me! If I can't cook a french recipe, I will probably just buy something ready in store.
I was trying to bake a cake for my son for his birthday and I notice that he's wishing of a scooter. Well, I actually want to surprise him on his day. Good thing is that I have found Gas Scooters which is very perfect for him. This scooter is very unique as this has to use gas unlike to ordinary scooters we know. The company which provides this kind of scooter guarantees all their consumers a good quality and safe product. And now I don't wonder why my son loves to have one. And I'll surely surprise him with this one and of course the cake I am preparing for his birthday as well. And I'm so excited for that day!
Merry Christmas and Happy New Year to all!
And there were shepherds living out in the fields nearby, keeping watch of their flocks at night. An angel of the Lord appeared to them, and the glory of the Lord shone around them, and they were terrified. But the angel said to them, "Do not be afraid. I bring you good news of great joy that will for all the people. Today in the town of David a Savior has been born to you; he is Christ the Lord."
~Bible – Luke 2:8-11
What are you planning to cook this Christmas Eve? As for us, we were going to celebrate it with our Filipino Friends here in Ar and we decide to have potluck foods and here's the menu
 lechon manok / lechon kawali(pork), embutidong bangus
 pasta
ratatouille soup / cupcakes
rice cakes / paella
 chicken cordon bleu
Soda and Garlic Breads
I am sure this will be fun coz these people are fun to be with!
May you have a merry and meaningful Christmas everyone!
 Pinoy style spaghetti, shanghai rolls and pancit! Hmmmm all yum yum!! I love these foods and these made me miss Pinas so much! Last Week, 3 of our Filipino friends celebrated their birthdays and here's some of our photos.
This cake was made my AVI of A lot of Sugar who also made my so pretty tweety bird cake and my daughter's barbie cake! She is really a talented woman and I love her talented works and we love her cakes so much! The last cake I ate was the cake above and my son asked for a take home too, lol.  My son and husband were more crazy about this cakes more than me  who loves sweets so much. They saw Avi's  delectable brownie cakes post in her FB and wishing they could get one on our Christmas get together 🙂
Yum Yum pinoy foods…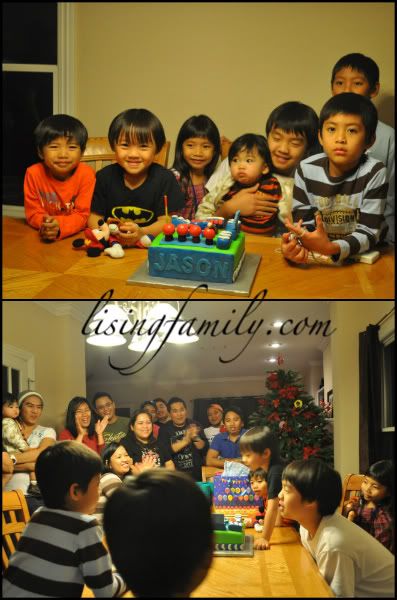 Happy Birthday!!!
Sharing my brown foods with Thursday Brown!
Guest post written by my buddy Aldo Mays
I was surfing through our direct TV channels the other night and stopped on the cooking channel. I am not a great cook, but I love sweets and I love to bake. I rarely have time to bake anymore now that I am working full-time and have two kids. However, on the show that I watched on the cooking channel, I learned how to make the most amazing chocolate cake. I wrote down the recipe and made it the next morning and it was as good as it looked on TV. It uses candy bars in the icing and the cake part is the most fluffy and moist cake I have ever tasted. My husband does not like sweets, but I convinced him to eat a piece of the cake and when he did, he agreed that it was amazing. I think I will take it to my in laws house for the holidays this year. My mother-in-law always asks me to bring a dessert to every family function. I do not know if she thinks that is the only thing I know how to make or if she just enjoys my desserts. Either way, I will be showing off my new cake recipe soon.

Our neighbor brought a gingerbread man's house kit last Thanksgiving break of my angels for them to make together.
It's a fun thing for my angels, they decorate the roof, the walls and their gingerbread man, their snowman and christmas tree.
Look what they made 🙂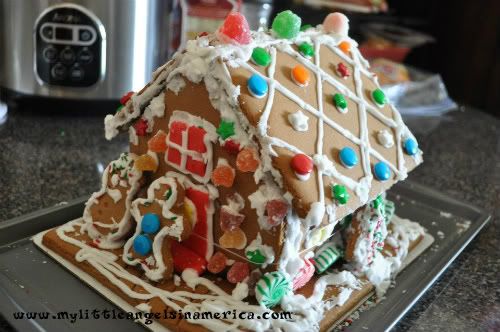 Gingerbread Man's House
Our Neighbor Ruth and my angels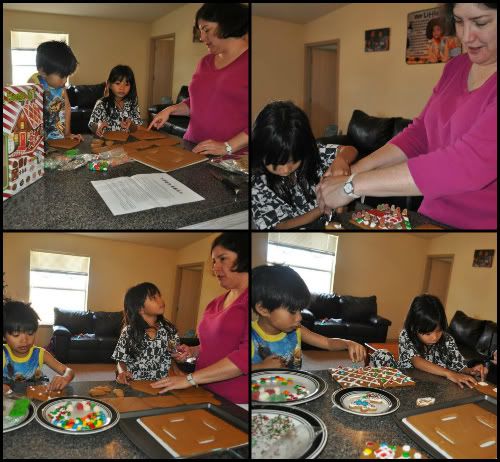 Maintaining a kitchen is not that easy for me even  for a small kitchen we have. Cleaning up the sink, the counter top and the stove which is my twice a week routine is hard for me especially when it comes to cleaning our kitchen floors. We don't use brooms here, we only use vacuum and I am not contented with it, I still need to use a wet rag to wipe our floor. Our floor is not made of a ceramic tile,  it's just a quick step laminate flooring so it's supposed to be easy to clean but vacuum can't clean it. Wiping it with a wet rag is all  I do better to maintain it.