Warning
: preg_replace(): The /e modifier is no longer supported, use preg_replace_callback instead in
/home/jeslisin/public_html/kitchenexplorers.com/wp-content/themes/CAL/header.php
on line
65
I miss eating some of our usual 'merienda' (snack) in the Philippines. I miss buying Banana Que, Hot Monay or Pandesal, Ginatan, and most especially my favorite Kamote Que.
Kamote que is a deep friend sweet potatoes with brown sugar. I though cooking kamote que is easy but it's not. My first try didn't go well, the sugar didn't stick into the sweet potatoes but anyways it's still yummy!
I will try it again next time! 🙂
I don't really have a green thumb, but I do know how to take care of plants. I can also sustain the life of a plant, and for that, I am proud. It's just too bad that I don't have enough garden space here. I would've wanted to grow my own herbs, spices, fruits, and vegetables. At least if I did, I can be sure that the produce we eat is really fresh and safe. I probably would burn the bank buying all sorts of gardening tools, and I might even get a composter so that I can make my own compost. I'm pretty sure that my vegetable garden would grow lovely if I feed it with organic fertilizer.
Another marvelous and amazing cake made by our friend of A Lot of Sugar. I requested a Cars Lightning McQueen a month before my son's birthday and she just said OKAY and viola, look at this perfect CARS she made!
My son loved it so much that he doesn't even wanna slice it ….
He blew his candle again when we gets home…
Ate some of the icing….
And then ask me to keep it… he doesn't want it to be sliced 🙁
And finally after 4 days….he let us eat it!
That's how he love his cake. And who would not love it right? Even the JUMPZONE staff can't stop their selves taking photo and sharing it to their friends. It's really a beautiful one! And I am si proud to have a friend here whos very talented and artistic.
Sharing this to…

In Addition to our weekly menu, I research for some pasta and I discovered Shrimp Scampi that is very easy to prepare and one of the delish pasta that my husband loved! I prepared this for his packed lunch last Wednesday and I am glad he liked it and he even called me at home just to ask how it is called.
Shrimp Scampi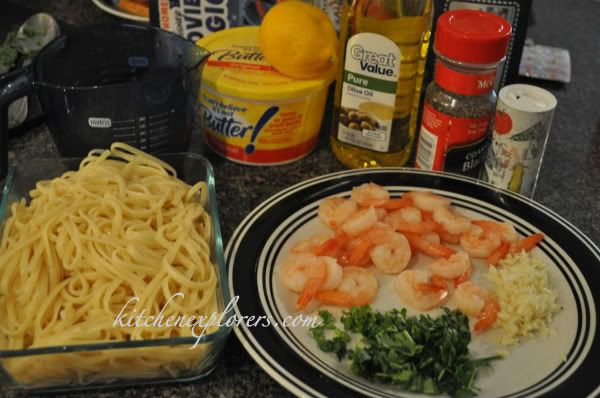 Ingredients
1 lb medium to large shrimps, shelled and deveined
1 lb linguine cooked according to package instructions
1/2 cup white wine (I don't have wine so I just put a little amount of vinegar as substitute)
2 teaspoons garlic, minced
1/2 cup clam juice (I can't find this too so I made my substitute again, I boiled the shrimp with 1 cup of water and added chicken cubes)
1 1/2 tablespoons olive oil
1 tablespoon lemon juice
2 tablespoons flat leaf parsley, chopped
1/4 cup butter
salt and pepper to taste
My husband and I loved the Southwest salad from DOLE. We bought 1 pack and we finished it for llike two days only so I tried to make my own. I have lettuce and so I researched for other possible vegetables I can put that is available in the fridge.
So I made my own version of Southwest Salad..
Here are the ingredients…
Lettuce. Tomatoes, Carrot, Corn, Cheese, Bacon Bits and Ranch
Preparing is easy you can mix lettuce, corn, tomatoes, carots together and then put some ranch on top, then sprinkle some cheese and bacon bits and then it's ready to eat!
I am excited to serve it to my husband tonight 🙂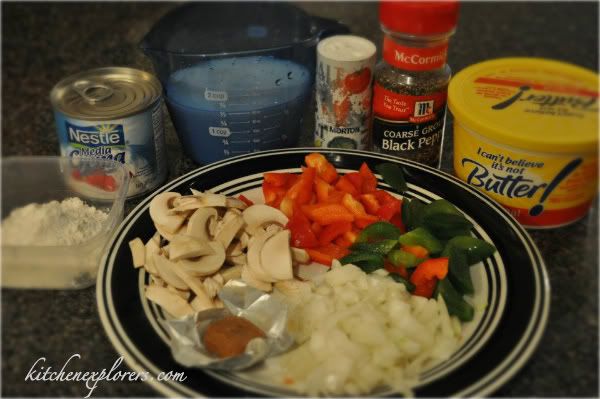 What you need
1 Onion finely chopped
100g mushrooms sliced
2 Tablespoons) flour
1 ½ cups Milk
2 chicken cubes and 200ml water ( make  chicken stock)
500g poached chicken in bite size pieces (I used chicken thighs, boiled it and cut it into cubes)
splash of cream
Salt and pepper
1 red or green Pepper chopped
2 tablespoons sherry(I didn't out any)
3 tablespoons butter for frying
Cooked Rice
Grated Cheese
Directions
In a pan on a medium heat, add butter and a little oil and cook the onions, peppers and mushrooms until soft. Add the flour and cook for a minute or two stirring constantly.
Remove from the heat, add the milk slowly and stir constantly, add the stock, bring to the boil and stir until smooth and quite thick.
Add the chicken and cream(not essential but I like it with cream) and season with salt and pepper and finally, if you want the sauce really rich add the sherry and combine it all.
Bake it or Microwave it
Put rice in a small Pyrex or bowl
Pour chicken ala king on top of the rice evenly
sprinkle the cheese
Baked in 350 degrees for 5 mins or microwave it for 2 mins
I served it hot to my husband and he loved it! 🙂 Another milestone for me !
 My Husband requested for new recipes, he's tired of eating our weekly menu. I am actually not enjoying it so I research for some other recipe such as Bake Macaroni, Thanks to the internet!
I didn't know baked macaroni is as easy as spaghetti when I tried to make it last Monday.
Ingredients
1 lb elbow macaroni
Meat Sauce:
3 tbsp butter
1 lb ground beef
1 ½ cup diced tomatoes (I used whole plums and chopped it)
1 small onions, diced
1/2 cup green bell pepper, diced
1/2 cup tomato paste
1 tsp paprika
1 piece beef cube (I used 2 cubes)
1 cup water
1 tbsp sugar
Salt and pepper to taste
Mornay Sauce:
3 tbsp butter
3 tbsp all-purpose flour
2 cups fresh milk
1/4 tsp salt
1 ounce grated parmesan cheese
2 ounces grated sharp cheddar cheese
How I did it:
1. Cooked the Elbow Macaroni for 8 mins then separated it.
2. Cook the Meat sauce.
2.1. Heat the cooking pot and put-in the butter. Wait til it melts.
2.2 Add the ground beef and cook for 5 minutes or until the color turns medium brown.
2.3. Add the onion, green bell pepper, and diced tomatoes then stir and simmer for 3 minutes or until the vegetables are soft.
2.4. Add the tomato paste and paprika then stir and cook for a minute
2.5. Add the beef cubes and water then stir until everything is well distributed. Simmer for 20 minutes.
2.6. Put-in the sugar, salt, and pepper then mix well. Turn of the heat and set aside.
3. Cook the Mornay sauce
3.1 In a saucepan place the butter and allow to melt over medium heat.
3.2 Add the flour stir constantly for about a minute (color must be yellowish and not brown).
3.3 Slowly whisk in the milk and continue to whisk until the sauce thickens and comes to a boil.
3.4 Add salt and pepper then simmer for 2 to 3 minutes.
3.5 Stir in the cheeses and whisk until melted.
4. Combine the cooked macaroni and meat sauce in a baking dish
5. Arrange the macaroni and pour the Mornay sauce over it evenly
6. Pre-heat oven to 350 degrees Fahrenheit and bake for about 15 to 20 minutes.
7. Remove from the oven and allow to cool down a bit.
8. then Serve and Enjoy!
I always love to eat salad but there's some salad that I don't like and I don't know their names.
I was looking for some salad veggies in Walmart last week and I saw this DOLE's Southwest Salad kit. It was a complete set of veggies so I tried it, put some ranch, cheese and bits of bacon in it and I made a yummy Southwest Salad that my husband loved!
Occasionally, we go out to nearby towns to shop and do some sightseeing. Since we usually do this on weekends, it's a given that there would be plenty of people on the road who are trying to squeeze in some recreation and relaxation into two short days. You can imagine the mass of vehicles on the road at times like these. It's a good thing that local governments impose rules and lay out a stringent roadside assistance plan to ensure the safety of people while on the road and to address the different concerns of some travelers. The existence of these measures makes me feel safer when traveling with my husband and kids.
I always love to have a big, wide and spacious kitchen. Why? Coz aside from I want more space when cooking, I also love to decor my kitchen with kitchen decors and some painting and photo frames too! Maybe you haven't seen a kitchen with photo frames in the walls but I have seen some already and I love the idea. too sad I wasn't able to take a photo of that house before. I tried to look in the net and I found this one….
Cool right? I love how the photo and paintings were placed in the kitchen. My kitchen is not as spacious as this  and there's no available wall aside from the wall with our switch plate and obviously I cannot put a frame on top of it.
I am really wishing we could get a big house soon so I could have a bigger kitchen like this!