Warning
: preg_replace(): The /e modifier is no longer supported, use preg_replace_callback instead in
/home/jeslisin/public_html/kitchenexplorers.com/wp-content/themes/CAL/header.php
on line
65
original price $44 now only $33
Here's a sample of their coffee that I love the most – Cafe latte!  They are on big sale right now with big discount and can be able to  choose different type of coffee you want in their site. I am a coffee lover but I am acidic so there's some coffee that I cannot drink except the natural ones like this organo coffee. You might wanna try one of their products too coz even if you're not acidic, drinking natural coffee is good for our health. Try it now while their on sale!
I love wines! I'm sure most of us ladies love Wines. Aside from the relaxing feeling I am getting from drinking wine, I know it's also good for our body. Here's some facts about some of our favorite wines….

Brought To By Wine.com, Purveyors of Fine Wine and Champagne
Wow, it's been 2 months since we celebrated New Year and now Valentines Day is fast approaching. And of course every couple is excited for this very much awaited event of the year. Well, what are your plans this coming Tuesday? Do you prefer to have a dinner with your loved one or just spend a night with him/her in your apartment? So far, both ideas are perfect and sweet indeed.
Wine Gift Baskets has been the best tool for celebrating a romantic dinner or even a simple gathering for this symbolizes how important to each and everyone that event is. Since Valentines is nearly coming, and if you want your date will be perfect for both of you, then wines are the answer for your date. You can buy wine online now a day; especially if you don't have enough time to go to store to buy because you're busy planning for your dinner date. This method of buying wines gives you hassle free and of course 100% sure that will be delivered on your doorsteps.
To most couples, celebrating Valentines is the best day they could have, aside from having their anniversaries of course, as this makes them very special to each other in a while. I mean, Valentines Day is indeed precious day since it gives attention only to the ones who are in love.
We had a GREAT NEW YEAR Celebration last night!  Everybody prepared their French Recipe , one per household and ours was the shrimp and fish fillet! We all enjoyed making our recipes and it turned out they are all Yummy!
Here's our list:
 (chicken cordon blue)
(Salmon en Croute)
(Pork Medallions and Caramelized Onions and Apples Recipe)
(Beef Bourguignon)
Shrimp with Mayo and Fish Fillet
(Chicken Consomme with Snipped Herbs)
 (French Vegetable Gratin)
(Ratatouille)
(Sausage with Apple and Sage)
(Choco Mousse)
(leche flan)
(Caramel Crunch)
Here's my contribution….
Shrimp with Mayo
I bought these shrimps in Walmart, they are cooked, peeled frozen shrimps. I just thawed them, sprinkled some garlic powder  and pan fry it. For the mayo, I just mixed it with white pepper, salt and some ketchup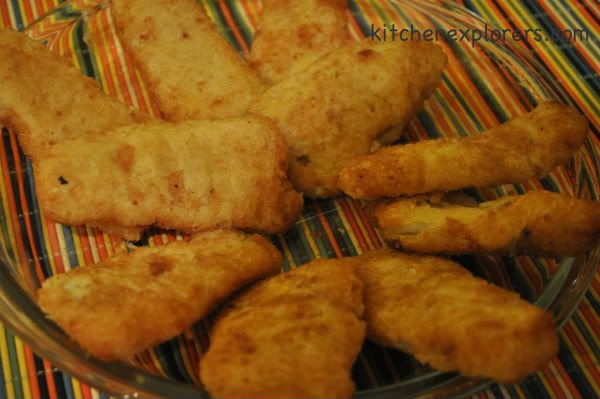 Ready to cook Fish Fillet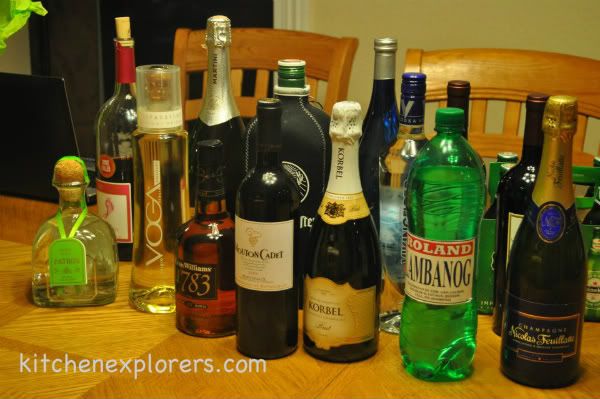 Lots of Wines, Beers and Brandy!
Octiber 1, 2011. Our 6th  wedding anniversary. Time flies really fast and I didn't notice that we've come this far already.
I am so blessed that I am married with the most patient and kind husband in the world! He's been so patient with me during those times that I am so depressed and being unreasonable and childish! I often remember those days and I feel so bad about it. But it reminds me always how much he lovde me no matter what. He stays with me till the end and I feel so lucky. I promised myself I will never let that happen again, I will not give him more pain in the ass. I will become more responsible and understanding to him, I will no longer do selfish acts. This is for my husband and for his love…..Thanks Dad!  I love you!
We didn't celebrate our anniversary  like we used to do yearly back in the Philippines. We are not celebrating the fancy way, watching movie and dinner is what w always do but we weren't able to do it this year.  We stayed at  home just like any other weekend,  watched a movie in the computer and drink some wine. Good thing we still have wine in the fridge but speaking of which, I have to  buy wine online coz we don't have anymore stock. It's nice to drink wine occasionally, it relaxes us before we go to bed, and for this kind of special occasion good thing we have stock, a toast and a kiss made out anniversary celebrated in our own special way!