Warning
: preg_replace(): The /e modifier is no longer supported, use preg_replace_callback instead in
/home/jeslisin/public_html/kitchenexplorers.com/wp-content/themes/CAL/header.php
on line
65
TRANSITION- (noun ) the process or a period of changing from one state or condition to another.
My family is now in this state. We just had our annual physical this month, everybody is in great shape except husband needs more Vitamin D and has to lessen his CHOLESTEROL intakes. Both Vitamin D defeciency and High Cholesterol scared me and my husband so from now on, we, not just him have to watch our every food intakes. I may not have high cholesterol but it's time to change our diet and habits to keep everyone in the family healthy! And besides, I needed to lose weight too, I needed to trim the disgusting curves I have so I can once again wear fashionable clothes especially this summer! I must admit, I was kinda neglecting my health lately. I am not consistently going to the gym or doing any exercise and I am eating whatever kind of food I craved for. I guess this is a wake up call and it's never too late to change all that and start being health conscious. No more frying for us, time to cook more veggies and lessen meat, more fish and consistenly taking vitamins and supplements.
I am hoping after 6 months,  when husband visit his doctor again, his Vitamin D and cholesterol levels will be back to normal again.
Family Supplements
Grilled Asparagus
1 cup of rice
grilled asparagus
tomato based ground pork with white egg
 cookie for desert
Grilled Sausages 
This was our lunch last weekend…slices of carrots and celery, baked spicy chicken wings and our all time favorite  – Lumpiang Shanghai or most commonly known as Spring Rolls. I've been eating spring rolls my whole life in the Philippines but last year was my first time to make some since I am craving for it, then I realized it's not that hard to make but a lot of process. Usually if you go to a party, this appetizer is always present! For most of the people this is classified as appetizer but not for most Filipinos like us  coz we love to eat it with steamed or friend rice! Preparing it is a little bit complicated because you have to grind   most ingredients with food processor or blender if no other choice.  Let me try to write my version of recipe for some people that asked for it…
Lumpiang Shanghai Recipe
It's Saturday and I feel like using a TIME OFF for just one day. I'm lazy and don't wanna do anything in my kitchen so I ordered pizza, sliced some carrot and celeries and opened a bottle of coke for dinner! Tell me if it's just only ME or it also happened to other moms in the world?
I love DOMINOS pizza, I'm contented with the HAWAIAN FLAVOR or HAM and BACON Toppings. I love the crust and not to mention the garlic sauce! Hmmm…yummy! I am not sure actually if I am just lazy to cook or I just wanted to eat pizza once in a while haha! Aside from that, you know what is cool about ordering online is this pizza tracker (see pic below). I am always enjoying this while I wait at home. You can actually change the setting but I love this particular regular setting.  Oh well…delivery is here! Chao!
I discovered a new, easy and delicious recipe last Christmas. Our company's christmas party was held at La Quinta Hotel. Everybody brought something, ofcourse I didn't cook so I just bought disposable utensils while others brought different specialty of their own. Don't ask me how they taste like coz it didn't stick in my mind tastebuds. What caught my attention was the Sopapilla Cheesecake. One of my close friend/ co-worker made it so I asked the recipe right that moment!
My first Sopapilla Cheesecake
Here is the recipe my friend wrote for me:
Ingredients: 
– 1 (8 oz) packages of cream cheese (softened)
– 1 and 3/4 cup of sugar
– 1 teaspoon vanilla extract
– 1 (8 oz) cans of refrigirated original crescent rolls
– 1 teaspoon ground cinnamon
– 1/2 cup butter (room temperature)
1/4 cup honey
Directions:
1. Preheat oven to 350 degrees F then prepare 9×13  inch baking dish with cooking spray
2. Prepare the Cream Cheeese Mixture – Beat the cream chesse with 1 cup of sugar and vanilla extract in a bowl until smooth, set aside.
3. Prepare the Butter Mix – Stir 3/4 cup sugar, cinnamon and butter , set aside
4. Prepare the Cake – Unroll the cans of crescent dough, use a rolling pin or just press it into the bottom of your pan/baking dish,  spread the creamcheese mixture on top evenly then cover with the remaining crescent roll. Dot the butter mix on top of the cheesecake.
5. Bake in the preheated oven for  30 minutes or until the crescent dough has puffed and turned golden brown. Remove from the oven after and drizzle with honey. Cool pan then cut into squares.
I hope you like it like I do. Serve it warm, ENJOY!
Tip:  Store left overs in the refrigerator. Heat in an oven for 8-10 seconds and serve!
original price $44 now only $33
Here's a sample of their coffee that I love the most – Cafe latte!  They are on big sale right now with big discount and can be able to  choose different type of coffee you want in their site. I am a coffee lover but I am acidic so there's some coffee that I cannot drink except the natural ones like this organo coffee. You might wanna try one of their products too coz even if you're not acidic, drinking natural coffee is good for our health. Try it now while their on sale!
Oh it's been a long time since I haven't tasted this yummy Filipino delicacy – Dried Pusit (Squid)!
I love buying this kind of food especially when it's from the streets together with the fried peanuts.
This one is different coz it's a special one and I am sure much more expensive than those I am buying from the street. No wonder it's tastier!
Thanks to my husband's office mates who are always remembering us!
This month, I have lots of friends who are celebrating their special days such as birthdays, wedding anniversaries and so much more and I am planning to give them this kind of gifts. And I'm pretty sure that they'll be happy of what I am giving to them. Even myself, I really want to receive as well this kind of gift to from my friends and I would surely be surprised if ever. What do you guys think about the idea of gourmet gift basket? How does this sound to you? This is quite interesting and surprising, right? So if you don't have any idea on what to give to your closest friends or to you loved ones, then this one is perfectly answers your need!
My husband's co worker from the Philippines sent him some Goldilocks polvoron now it makes me miss my country so much! I miss these delicacies that me and my kids love to buy when we were still there.  I love their cakes, I also love to eat their Filipino delicacies such as 'Dinuguan, Spaghetti, Pakabok and Most especially Halo Halo. Hmmm I am drooling right now. I wish Golidolocks will be available soon in Arkansas or Texas where we can visit sometime. Golidocks has 22 stores in the US – in Los Angeles, California, San Francisco, Las Vegas, Sacramento, and San Diego unfortunately there's non here in Arkansas.
Yummy Polvoron!
I miss eating some of our usual 'merienda' (snack) in the Philippines. I miss buying Banana Que, Hot Monay or Pandesal, Ginatan, and most especially my favorite Kamote Que.
Kamote que is a deep friend sweet potatoes with brown sugar. I though cooking kamote que is easy but it's not. My first try didn't go well, the sugar didn't stick into the sweet potatoes but anyways it's still yummy!
I will try it again next time! 🙂

Our neighbor brought a gingerbread man's house kit last Thanksgiving break of my angels for them to make together.
It's a fun thing for my angels, they decorate the roof, the walls and their gingerbread man, their snowman and christmas tree.
Look what they made 🙂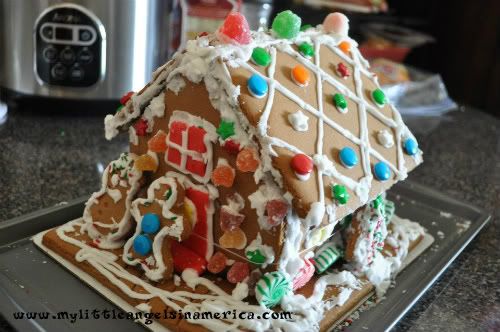 Gingerbread Man's House
Our Neighbor Ruth and my angels